Report from the visit of Anna Aalto – RDI2CluB Project Coordinator – to the Świętokrzyski Region combined with participation in the Regional Bioeconomy Profile workshop.
May 7-8, 2018
European Union is shifting towards bioeconomy, especially in terms of strategic approaches and technology development. Still, in many countries, such as Poland, the concept of bioeconomy is not well-known and is absent in the public discourse. Therefore, the opportunities have not been fully understood or identified either. Although, there is no national level programme or strategy promoting bioeconomy, the national smart specialization strategy includes innovative technology processes and products of the agro-food and forestry-timber industries, high quality and organic production of food and biotechnological processes in chemistry or engineering. (Wozniak & Twardowski, 2018).
I was visiting Świętokrzyskie Voivodeship in May 2018 to attend our RDI2CluB project partners' regional stakeholder workshop on the bioeconomy potential in the region. I got also a chance to visit local companies and the State Forest agency to get a glimpse into bioeconomy trends and challenges in Poland. In fact, our Polish partners managed to fit quite an extensive excursion programme into the two days of my visit, which was indeed a great opportunity for me to better understand the realities of bioeconomy development in Poland and to explore an interesting region – in excellent company.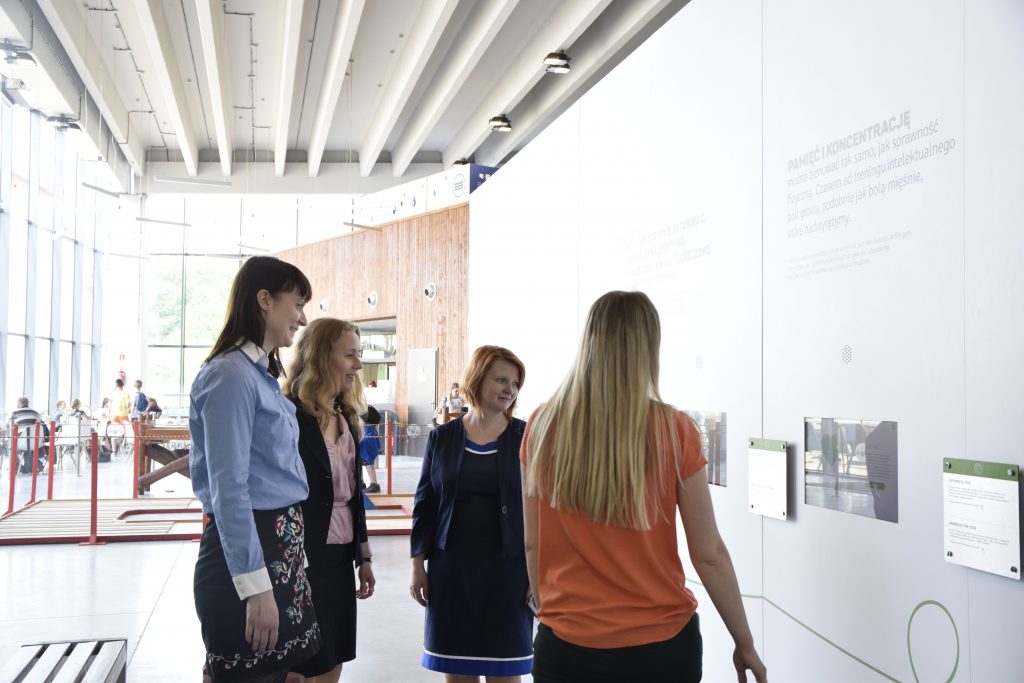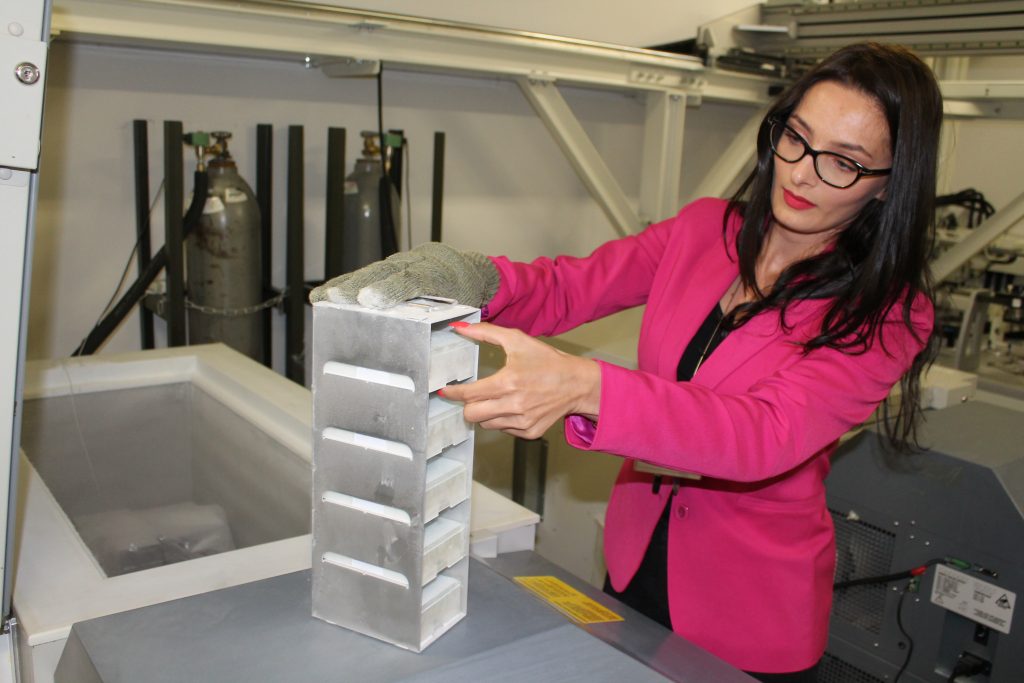 Photo: Regional Science and Technology Center at Chęciny features a Biobank Laboratory and Leonardo da Vinci learning center. (Anna Aalto 2018)
Following the foot prints of the first four legged land animals
Although I still struggle to pronounce the name, I did learn a lot on the history and specialties of the Świętokrzyskie region. However, instead of spoiling the fantastic tales of witches, dinosaurs and princes for our partners that will be coming there for a benchmarking visit next year, I will stick to sharing a few facts on the region… and extending a glowing recommendation for those considering their next holiday destination in Europe.
The Świętokrzyskie region is located in the South-Eastern Poland and is surrounded by the country's biggest urban agglomerations, such as Warsaw and Kraków. The region's total population was around 1.24 million in 2016 (Eurostat 2017). The capital city is Kielce, a medium-sized city in Poland with nearly 200,000 inhabitants. Population has been in slight decline due to migration to bigger cities. Economic drivers include construction sector that was traditionally based on the exploitation of natural resources such as limestone. Regions is also known for fairs and exhibitions, agriculture, spas and health resorts as well as for their historic architecture, nature and recreational areas such as the Świętokrzyskie National Park.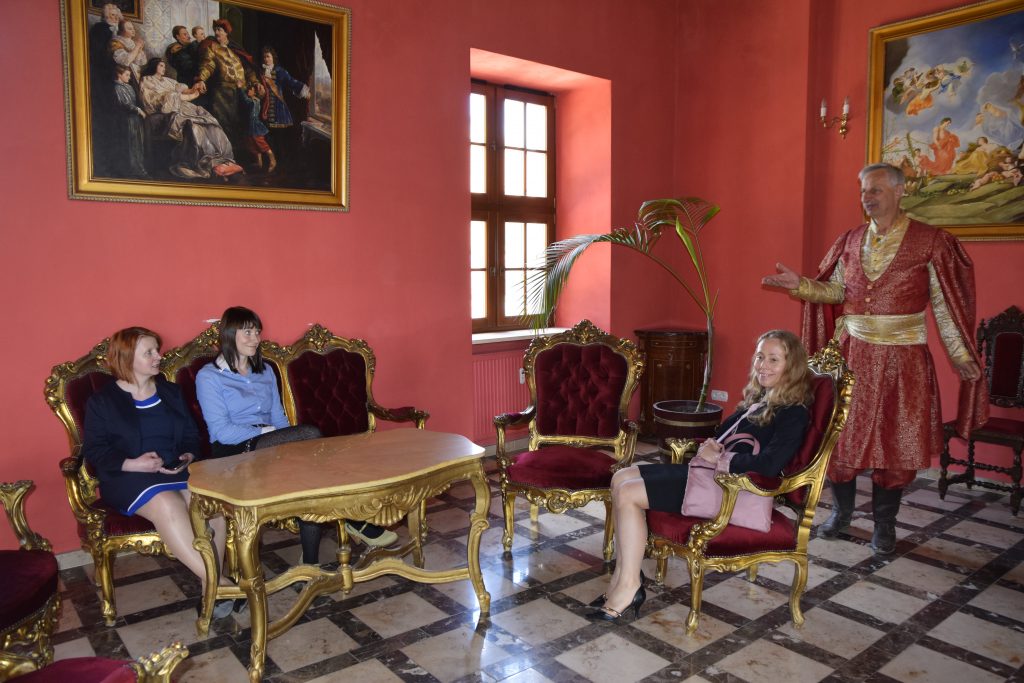 Photo: History lesson with the partners (Małgorzata Wrzałka, 2018)
Capacity building cooperation of Świętokrzyskie and Central Finland goes way back
As I soon found out during my visit, Central Finland and Świętokrzyskie Voivodeship have had a long-standing collaboration for over ten years. In 2007, the regions have signed a memorandum of cooperation regarding expertise exchange and carried out manifold capacity building projects since then. Our project consortium involves also one of the Honorary Counsuls of Finland in Poland, Mr. Tadeusz Peczek, who is stationed in Kielce.
In RDI2CluB project, the cooperation is focused on the capacity building for innovation and more specifically for smart specialization in bioeconomy, building and strengthening bioeconomy innovation ecosystems and developing transnational cooperation in bioeconomy innovation. Via the production of the regional bioeconomy profile, the development of joint actions plans and the mapping of the regional innovation system, RDI2CluB provides tools and expertise for the entrepreneurial discovery process aimed for identification of new areas of regional competitive advantage in bioeconomy.
Discovering the bioeconomy potential for smart specialization
Świętokrzyskie Voivodeship is currently starting the preparations for updating their regional smart specialization strategy. As indicated by Mr. Tomasz Janusz, Deputy Director of the Regional Policy in the Marshal Office of the Świętokrzyskie Voivodeship, RDI2CluB helps the region to analyze and assess their potential in bioeconomy, which will provide new insights to the process of updating the regional smart specialization strategy. Świętokrzyskie Voivodeship aspires to engage in a dialogue with the stakeholders to raise awareness on bioeconomy potential. The region has strong agricultural sector and has been named the cleanest and the most ecological region in Poland by the Polish Investment & Trade Agency (2017), which gives a good premises to build on.
At the moment, the smart specialization areas of Świętokrzyskie Voivodeship include: Metal and foundry sector; Modern agriculture and food processing; Energy-efficient construction sector; and Medical and health-oriented tourism. These areas are supported by three horizontal areas: the information and communication technologies (ICT); the sustainable energy development, and the fair and congress sector. As far as bioeconomy is concerned, the agriculture and sustainable energy are the obviously interesting areas, but of course, the cross-sections can reveal regional advantages in digital bioeconomy, nature tourism, functional foods for health, wood construction and so forth.
Looking at the co-operation potential between Central Finland and Świętokrzyskie, we have similar interests, for example, in developing tourism that combines services and experiences of nature and health. In other words, the sauna region and the spa region could join forces in developing and sharing the regional cooperation concepts and marketing strategies for the bioeconomy service sector. The tourist experience with a bioeconomy twist combines the stress-relieving clean, tranquil forests and natural waters together with the natural cosmetics and organic, locally produced food with medically proven health benefits. As we often fail to comprehend, picking natural berries straight from forest might be every day for the Finnish and Polish people, but certainly exotic for many nations.
Forest area is growing under state management
Our visit to Polish bioeconomy started at a beech tree seedling nursery of the State Forests. A prestigious group of high officials in charge of the region's forest management greeted us on the site and presented the state of forestry in Poland today with the help of the translator.
The forest area in Poland has been expanding as a result of the National Program of raising forest affluence adopted in 1995. As per the programme, State Forests is not allowed to cut more than 60 per cent of annual growth to ensure the increase in forest coverage and sustainability. In 1946, the forest area in Poland was 20.8 per cent while in 2017 the forest area has expanded to 29.5 percent with the expectation of reaching 30 per cent in 2020 and 33 per cent in 2050. In a vast land of Poland, the 29.5 percent amounts to an area of over 9.1 million hectares.
A special feature of Polish forestry is the high share of State owned forestland. The State Forests National Forest Holding manages 77.4 per cent of forests in Poland, while 18.7 per cent is privately owned, 2 per cent are national parts and 0.9 per cent is commune owned. The State Forests units operate on nationwide, regional and local levels employing over 25 500 people. Furthermore, 50,000 workers are employed in outsourced forest services such as timber harvesting, planting and forest protection. The saw mills, paper mills, furniture companies and other wood industry employs a further 300,000 people.
The State Forests manages the national forests to ensure three functions – protective, social and productive function. In other words, the State Forests aims for sustainable management of the forest resources that ensure the environmental protection, educational and recreational use of forest as well as the wood supply to the industry. Organization does not rely on the taxpayers support, but is economically independent. State Forests gains revenue from wood sales and has an online-based auction system for selling the timber and the revenues gained from wood sales exceed 1.9 billion Euros. The protection activities, national parks and sustainable forest management are supported with the income from timber sells.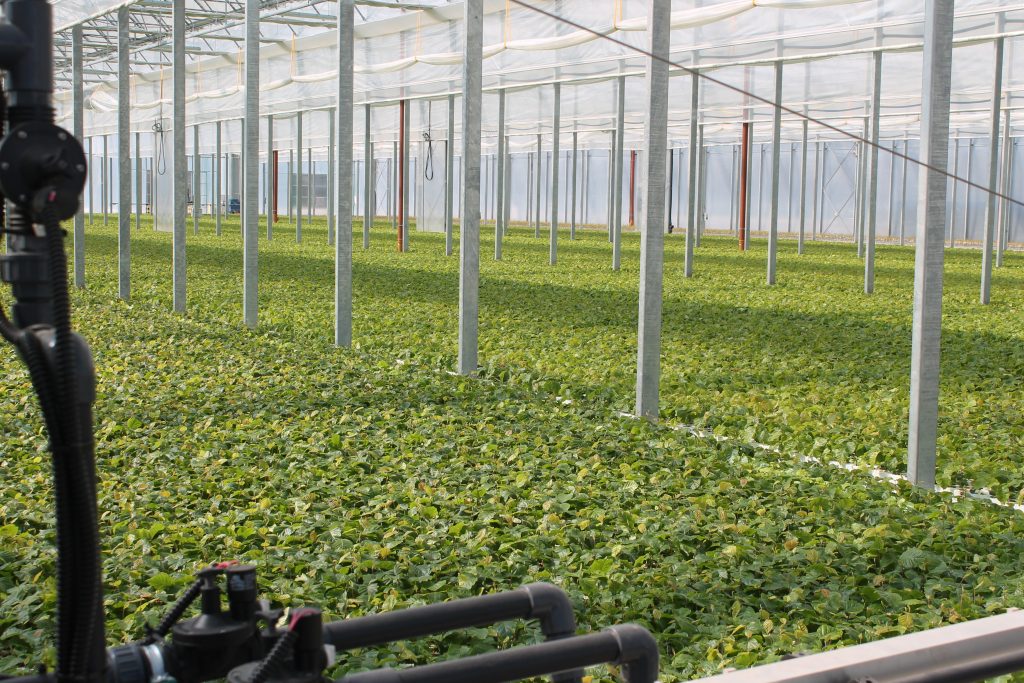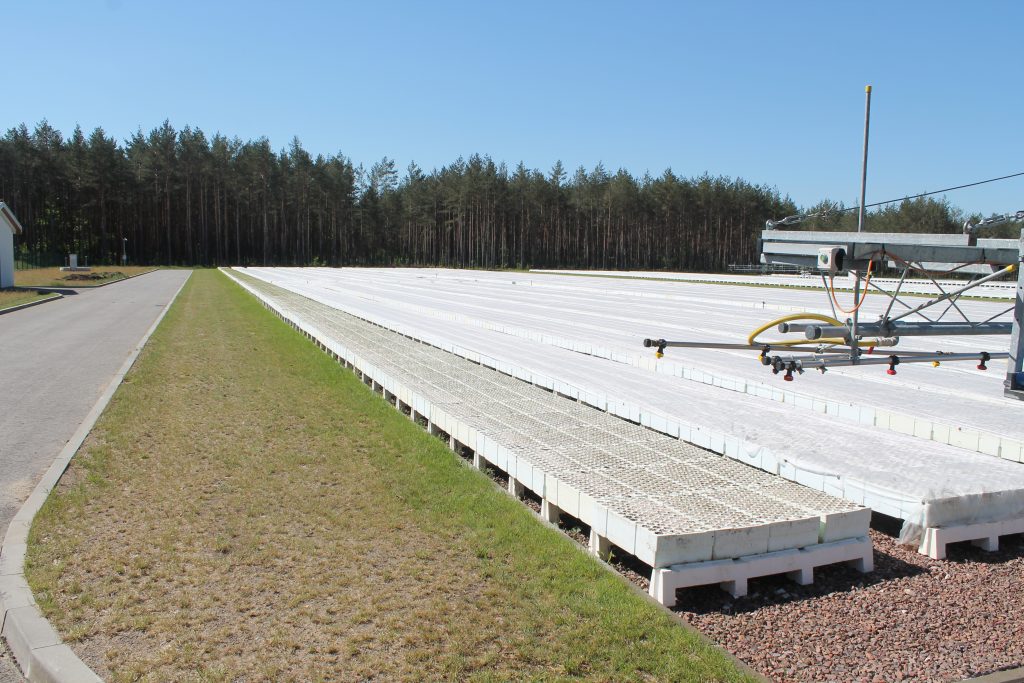 Photo: Beech tree seedlings growing in a nursery awaiting planting. (Anna Aalto, 2018)
The progress made in sustainable forest management is apparent from the growing forest areas as well as the investments to protection and sustainable forest management. In Poland, the majority of Natura 2000 protection sites have been established in the State Forests. They make up to 40 per cent of grounds managed by State Forests with a total area of more than 2.8 million ha. In 2013, the State Forests of Poland were awarded the UNESCO Prize for Environmental Protection for their outstanding achievements in sustainable forest management, balancing the needs of nature and humans in a proper way.
There has been also controversy related to the logging despite the growing forest area. In 2016, Poland started logging in the Białowieża forest that is one of the Europe's last primeval woodlands and a UNESCO World Heritage site since 1979. This action was met with a strong resistance from activists and in April 2018, the EU Court of Justice ruled that increased logging in Białowieża Forest violates EU law.
Poland on EU Court over smoggy winters, but remains committed to coal
A part from logging, EU Court of Justice has recently ruled against Poland due to persistent air quality violations. The leading cause of harmful smog and airborne pollution in Poland is clear – extensive coal and rubbish burning in homes to heat the houses in the winter season. The Polish houses are commonly heated with coal stoves and use of poor quality coal or burning of waste are common in low-income neighborhoods. In fact, an astonishing 33 of Europe's 50 most-polluted towns are in Poland, as ranked by the World Health Organization in 2016. When I was visiting Kielce in May, the air quality was good, which demonstrates how the problem focuses on winter months, when heating is needed.
It is a strong contrast to Finland, which enjoys the best air quality in the world according to the World Health Organization. Great news for Finland and a fact that offers growing potential also for our tourism industry in a World where 9 out of 10 people worldwide breathe in polluted air. In all seriousness, even though Asia and Africa lead the race for the worst air quality, the situation is alarming in many European countries as well. European Environment Agency (EEA) has reported that over half a million premature deaths in 2014 can be linked to air pollution in 28 EU countries. Coal burning for heating is one of the main causes of severe air pollution affecting especially countries like Bulgaria, Poland and Czech Republic.
Despite winter smog and the fact that it is estimated that majority of Polish coalmines are unprofitable and the employment in the hard coal mining industry has declined by 78 per cent between 1989 and 2015, the Polish government is emphasizing the role of coal as the strategic fuel guaranteeing Polish energy security. Although the 90,000 employees in the hard coal sector of Poland does not compare to, for example, the around 375,000 people employed in forest and wood industries in Poland, miners are highly respected profession in Poland. Miners are supported by politically influential trade unions and the public.
Market demand, government programs and local initiatives transforming the household heating opening opportunities for bioenergy and other renewables
To battle the smog, Polish government is taking initiative with measures including higher coal quality standards and subsidies to help the poor insulate their homes, replace old polluting stoves or afford clean heating.  Some regions have taken an initiative to enforce own rules on household heating. The subsidy programs open opportunities for clean energy companies in national markets. In addition, the market preference is changing towards cleaner options for heating energy.
We visited a local saw mill that has been producing pellets for Italian markets from the side streams of the production. Now they have invested to increase capacity of the pellet production as a response to growing market opportunities in Poland. Świętokrzyskie region houses also one of the leading companies in Poland producing heaters. As we visited the company, we learned of the rising national demand for pellet-fired heaters and energy-efficient, clean burning models. With a strong forest biomass potential, forest industry and heater production, Świętokrzyskie region could surely benefit from the rising demand for bioenergy.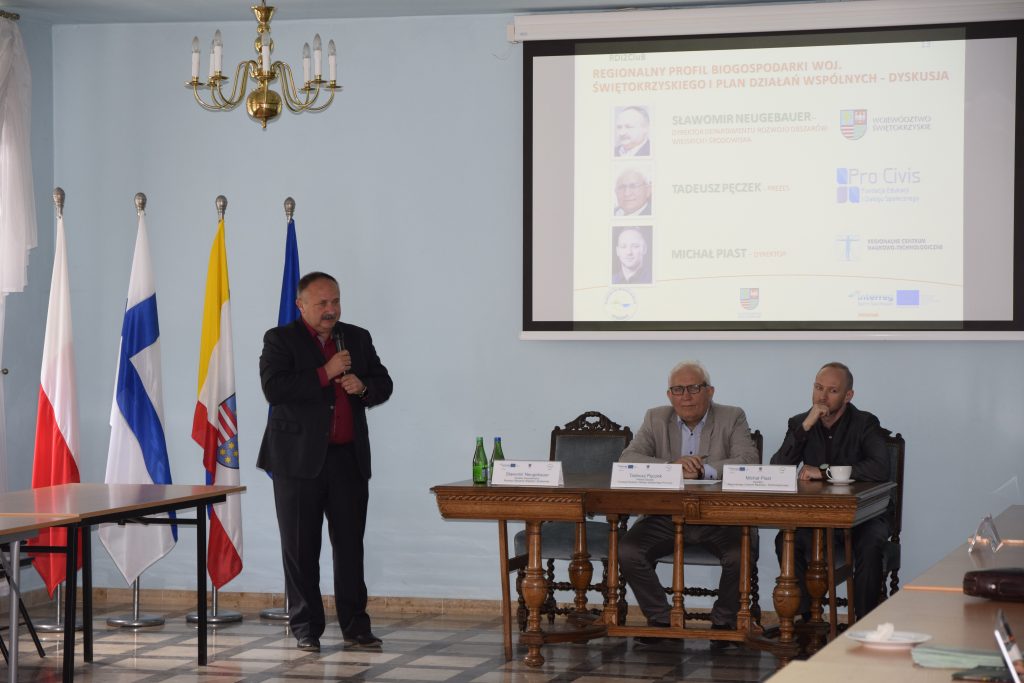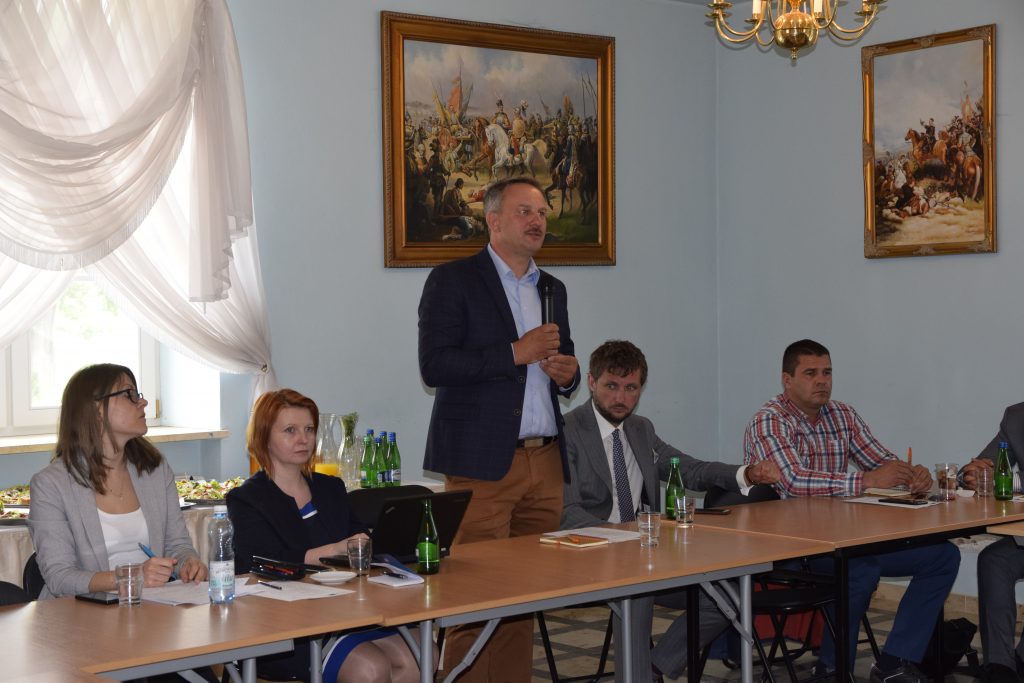 Photo: Several local companies attended the workshop and were open for continuing the interaction on bioeconomy development regionally. Many voiced their concerns over the regulatory barriers to innovation. (Małgorzata Wrzałka, 2018)
Bioeconomy grows out of necessity, but the pace can be affected by policy makers
Bioeconomy can offer solutions for a variety of regional challenges from air quality to lack of rural employment opportunities. Still, the cross-sectoral nature and circular flows of biomass, energy and side streams demand new type of regional cooperation culture, practices and platforms that can challenge the state of art for regional innovation system.
As EU is strongly emphasizing circular economy and bioeconomy as the strategic development paradigm, Polish regions and actors looking for economic development opportunities, or simply access to regional development funding, seek to grasp the concepts and understand how to apply them in their regions. In order to take advantage of the opportunities, the policy makers require practical tools and data for analyzing the potential of bioeconomy and the ways to support its growth and the development of regional bioeconomy ecosystem.
At the bioeconomy workshop, the challenge raised by the business sector representatives in unison was the extensive regulatory barrier hindering innovation and commercialization of new products and services. Navigating this barrier as well as the uncertain political commitment to the transition from fossil economy to bioeconomy pose risks that should not be understated. It has also been stated may times during my visit that the Polish lack a culture for collaboration that hinders cooperation and implementation of joint regional agendas.
Having said that, it is apparent that our input comes at the right time in regards to the updating smart specialization strategy in Świętokrzyskie and addressing the air quality issues. The practical pilot with drones measuring air quality is already helping to instigate dialogue and has gained a strong media interest for RDI2CluB project. The data from the pilots will be used to support transition to clean and renewable heating energy sources. Furthermore, there is a strong drive in our partnership for strengthening the regional cooperation and engaging a wider discussion on the potential of bioeconomy.
Sources